Transits are one of the important aspects of vedic astrology. Western astrology times event through transit of planets, they don't have the dasha system. But Hindu or Vedic astrology has a wide range of dasha system and sages have advised to use transit along with it, and it makes vedic astrology far superior than any other system. Planetary or Sign dasha holds the pattern of one's prarabdh karma and transits shows their fulfilment through kriyamaan karma. In other words, transit activates the prarabdh karma of the horoscope through kriyamaan karma. Though 65-70 hold is under the dasha and rest under transit.
Sh. KN Rao ji has shown the use of Saturn and Jupiter transit in timing or confirming events of the birth horoscope. Earlier Saturn transit were considered only inauspicious, but he showed the Saturn role of Karma and Kaal because it is the lord of 10th house of natural zodiac or Kaal Purusha Kundali (Aries).
Jupiter is the lord of 9th house of natural zodiac, it shows blessing of god, luck and auspicious events. So, when any event takes place, transit of these two should have to be related to the event house/lord or navamsha sign of the house lord or transiting planet is in 10th from the event house/lord. These two are the natural significators. 
One day, my guru Sh. VP Goel ji gave a hint that can we use functional significators ? He was logically correct, and I went on testing it on more than 100 charts. This article credit goes to him, I have just explored it.
Actually, using functional significators along with natural will make the transits much more fine tuned. Here, 9th and 10th lord of birth horoscope will work as Jupiter and Saturn. But not without them, if Sat-Jup are 9th & 10th lord then they are alone stronger to deliver the results.
Before moving please understand the working of Jupiter and Saturn transit. Jupiter shows the luck and blessing and Saturn shows the karma and time. So, lord of any house is the doer of that house, for only auspicious events like marriage and child birth etc. primarily, transiting Jupiter should have to be influencing the lord of that house because we do auspicious events, like in marriage we do auspicious things. Saturn can be connected to both or anyone of them. 
Case-1
This is the birth chart of Pt. Jawahar Lal Nehru. He is cancer lagna. Here Mars is 10th lord and Jupiter is 9th lord. So, Jupiter is prominent being natural and functional significator of 9th house of luck and blessing. Mars is lord of karma in this chart. Now, He was married on 08-Feb-1916. For marriage, we will see 7th house/lord of birth chart and getting activated by transit planets. On marriage day, Saturn was aspecting his 7th lord in Leo and Mars was aspecting the 7th house from lagna. Both natural and functional karma lord are connected to event house/lord. Jupiter is only blessing giver here, it was in Pisces. Saturn, the 7th lord of horoscope is in Cancer Navamsha and Cancer is aspected by Jupiter. Here Jupiter is only related to lord and not house.
Now, at the time of birth of his 1st child and only daughter, the great Indira Gandhi. The 5th house/lord of his horoscope has to be related with transit planets. Saturn was in Cancer and aspecting his 5th lord in Virgo with his 3rd aspect. Mars was aspecting the 5th house from 2nd house (Leo) through his 4th aspect. Jupiter was in Taurus and aspecting both the lord and house through his 5th and 7th aspect respectively.
Case-2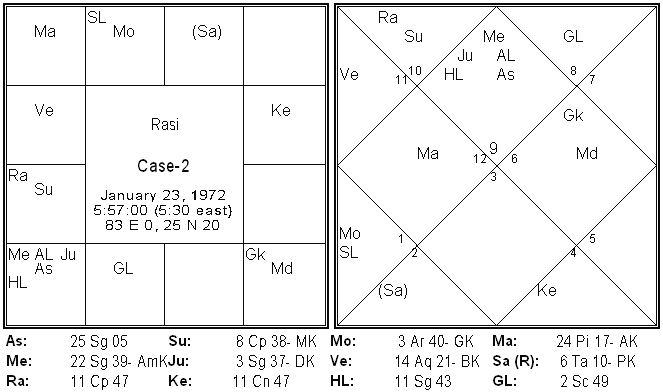 In this Sagittarius lagna chart, the 9th lord is Sun and 10th is Mercury. On marriage day, Mercury was in 4th house which is 10th from the 7th house and Sun was aspecting the Libra, Navamsha sign of 7th lord Mercury. Saturn was in the 7th house and aspecting lord in lagna and Jupiter only aspecting at the lord in lagna.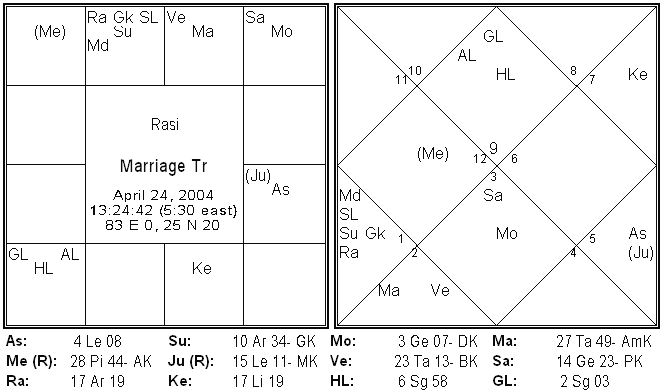 At the time of 1st chid birth, the Sun, Mercury and Jupiter were aspecting the 5th house and Saturn also from the 8th house.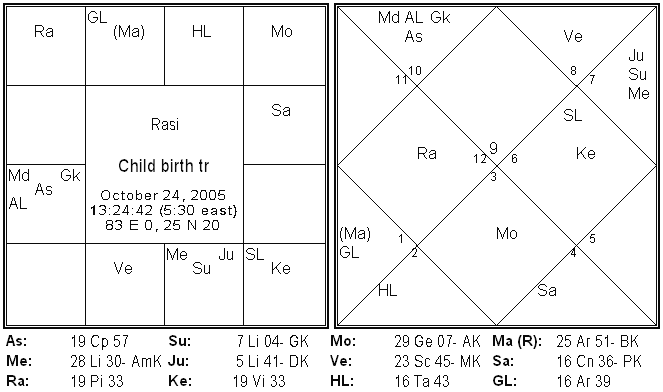 Case-3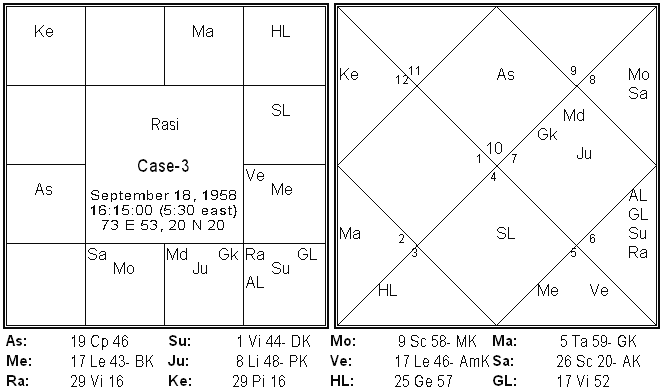 In this Capricorn Lagna, Mercury and Venus are the important planets as lord of 9th and 10th. At time of getting 1st job, Venus was on his 10th lord of profession in 8th house and Mercury was transiting in 10th house from the 10th house, i.e. 7th house. Jupiter & Saturn were on Virgo, it is the Navamsha sign of 10th lord Venus.
At marriage, transiting Mercury was in 10th house from the 7th house, i.e. 4th house. Venus was on navamsha sign of 7th lord, Moon. And, Jupiter in lagna and Saturn on 7th lord.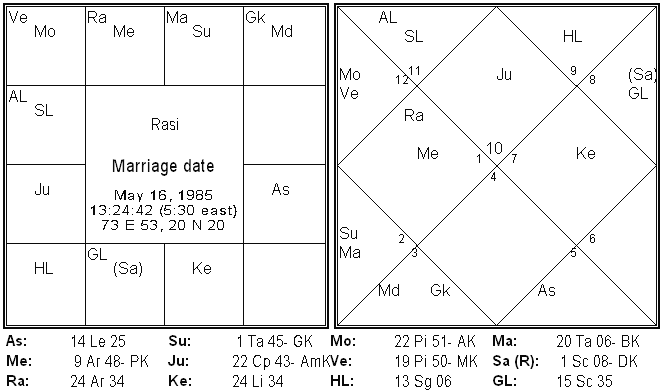 He was blessed with a child, when Mercury-Venus were transiting in Pisces, it is the navamsha sign of 5th lord Venus and aspecting the 9th house. Jupiter was aspecting the 5th lord in 8th house from Aquarius and Saturn was aspecting both lord and house from 11th house.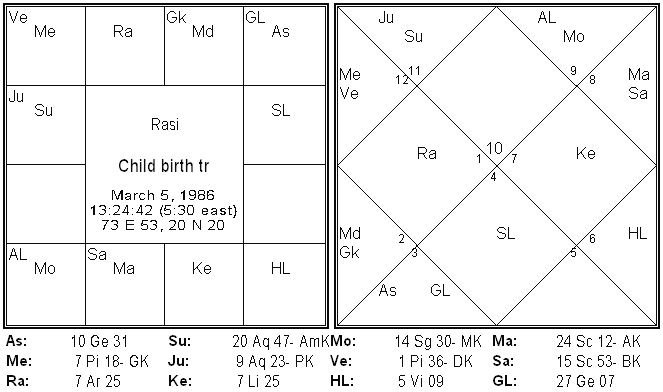 Case-4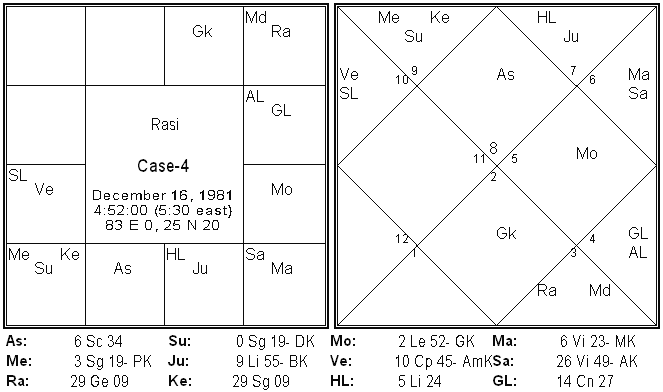 In this chart, Moon was 9th lord and transiting in 7th house at the time of marriage and Sun is 10th lord which was in 4th house, 10th from the 7th house. Saturn and Jupiter were not influencing the Venus, the 7th lord but the 4th and lagna lord.
I have shown only few example because I don't want to make this lengthy, though it has been tested on about 110-115 charts. It works with 97% accuracy, if used navamsha only, though esteemed reader can use D-60 sign instead of D-9 or navamsha for much better results. You can check and do feedback in comments.