Jupiter or Guru is the only planet who gives materialistic & spiritual gains in a very beautiful way. It is a naturally benefic planet so most of the time it doesn't disappoint. If it is well placed then native has a good account of spiritual & family karmas of past life.
But interpretations of Maha or Anatardasha of planets are different. There are many rules given in the great Laghu Parashari. At least 18 factors required to judge the results of any dasha. Though Jupiter is a natural benefic planet generally it's dasha is good, but in judgement of dasha the functional behaviour is very important. So, for ascendants of Venus > Mercury > Saturn, its dasha is generally bad.
I will not discuss the rubbish things, Like: Exalted Jupiter dasha results, own house etc etc.
See results are not definite, it totally depends on the overall horoscope.
If dasha is beneficial then it will be good for those things which are controlled by Jupiter in the horoscope, similarly if bad then negative results.
I will try to explain this with the help of examples then you can see that how actually it works:
I have not attached the divisional charts like D-9 or D-10. You can cast them in any fine astrology software, details are given. You can use our android astrology software: https://play.google.com/store/apps/details?id=com.aaskplanets.jyotshika&hl=en_IN
Example-1
This is the birth chart of an individual who is professionally struggling. He has been in Jupiter dasha since 2008, till Jupiter-Jupiter he was doing very well because Jupiter-Jupiter does not harm generally also other transits were good. But the movement he entered in Jupiter-Saturn downfall started, he lost his job. Then again regained in Jupiter-Mercury, but with Jupiter-Venus again loss of job. The Jupiter-Venus damaged so badly that his profile is changed and he is unstable now, after that he got Sun and currently in Moon but not satisfied with his job and his graph declined.
Jupiter is in 10th lord in 12th house, having exchange with Venus but don't fall in illusion of exalted Venus, reason is deep. Look at the degrees of Jupiter, it is debilitated in D-9 and D-10 also. D-9 is fruit and D-10 is the main chart of profession. Clears the instability of profession and also he suffered badly for a kid, Jupiter is weak the significator of childbirth.
Example-2
This native was in Jupiter dasha, 1998–2014. He supported his family as much as possible, financially helped in marriages of her 2 sisters and also cousins. Then did his own marriage, blessed with two kids and earned very good throughout Jupiter. Jupiter dasha proved best for him.
Jupiter is a friend of lagna lord and placed in lagna. Only receiving the aspect of Saturn who is also digbali and in mutual aspect with 5th lord, in a Raj-Yoga. In D-9, and D-10 Jupiter is in Virgo, which is the 11th house of the birth chart. Jupiter is also in a benefic shashtiamsha (D-60).
Example-3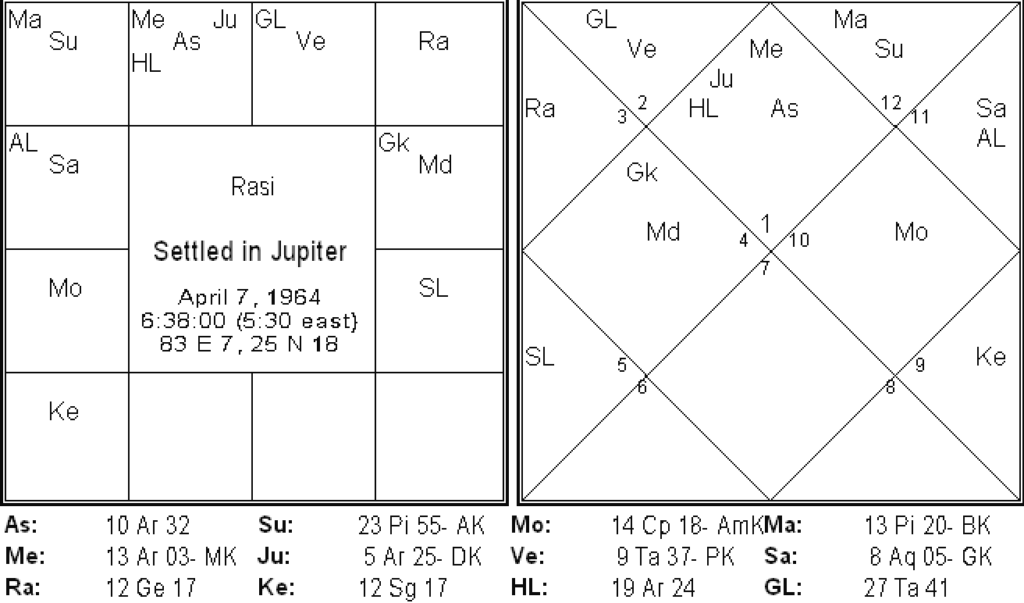 This native's business got started in the end of Rahu dasha with the help of his elder brother, but Jupiter gave him stability and new business ventures. He travelled a lot and enjoys traveling.
Jupiter is friendly to lagna and placed in lagna as well. It is with 3rd and 6th lord, he lost his elder brother, Mercury is 8th lord from 11th house and Jupiter is 2nd, a killer. Now, in D-9, Jupiter is in taurus sign with Moon, gajakesari yoga. No problem is marriage in Jupiter but his marital bliss started reducing with the start of Saturn dasha.
Example-4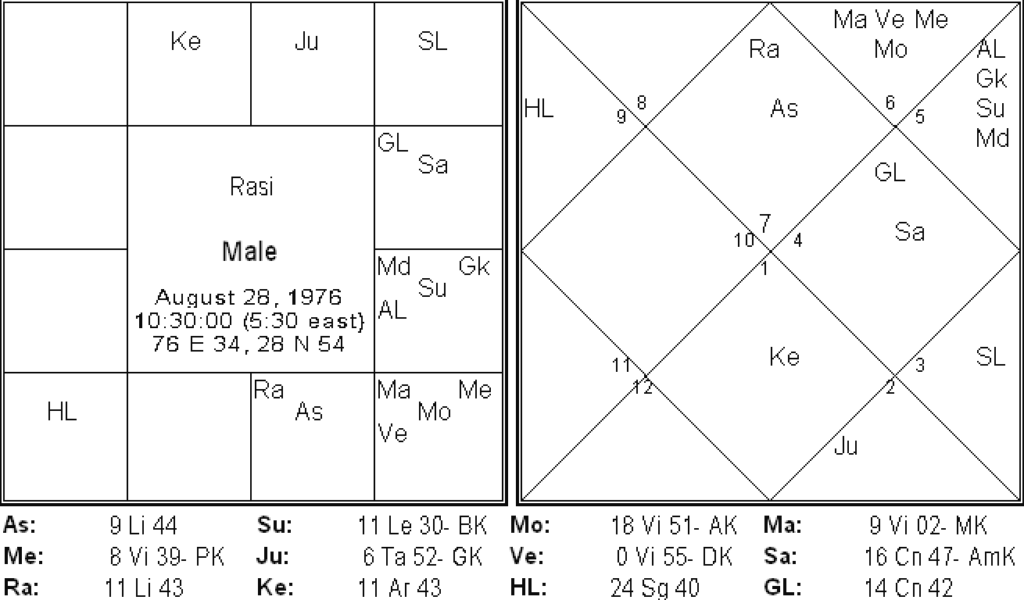 His Jupiter dasha was excellent, he got married, blessed with children, very good in job, holding a very high position. Jupiter is inimical to lagna, but then why so good dasha? It is in 8th house being 6th lord is vipreet raj-yoga. But the picture is not only this Vipreet-Raj Yoga, you should see the D-9, Jupiter is in his own house Pisces. D-9 Lagna is Sagittarius which is good for Jupiter. I always say that if Lagna is changing to a different group then results change.
What is a different group? Planetary friendships are in two groups: Mercury, Venus, Saturn, and Jupiter, Sun, Moon & Mars. So whenever lagna of D-9 belongs to the same group then friendly planets to the lagna are more important if different groups then results are mixed. But in this particular case, Jupiter is inimical to lagna lord and forming vipreet raj-yoga but in D-9 it's in its own house and ruler of ascendant as well. In both ways, Jupiter is good. But Suppose, if with this Jupiter, Navamsha was of the same group then it was not very good.
The study of the Navamsa should be independent but also with respect to Rashi chart. I hope you guys should be able to understand how a planet gives its results, though I explained only 5% of it. There are many layers in it to know what actually the planet is doing in particular the horoscope. Jupiter is naturally the lord of 9th and 12th house, 9th house is laxmi sthan, religion, luck etc. It has both material and spiritual meanings but what Jupiter is delivering will be decided according to overall horoscope so with the 12th house, it is the house spirituality but also of bedroom pleasures.